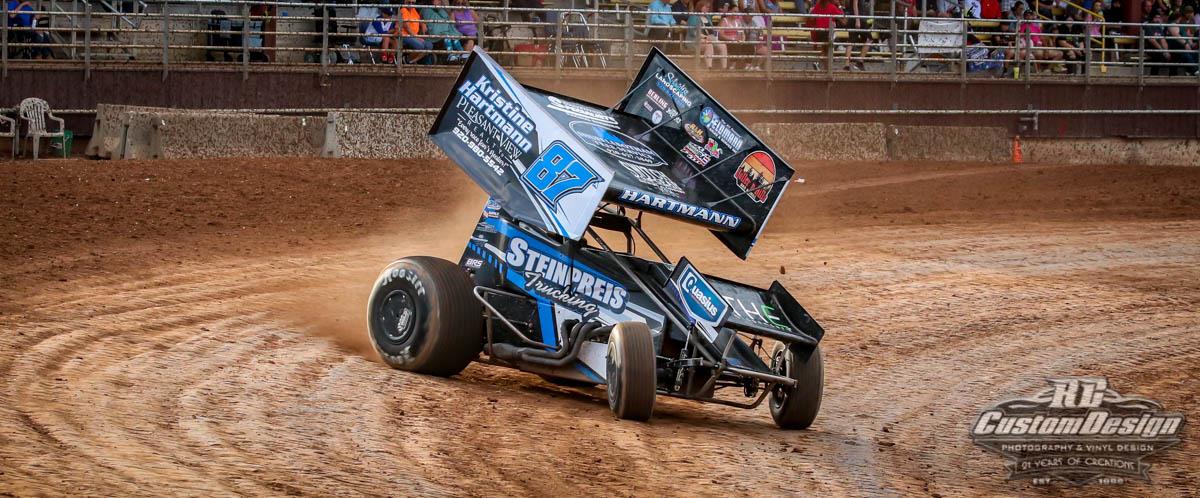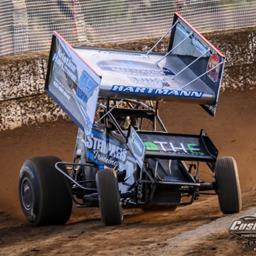 ---
Hartmann closes book on final doubleheader road trip of 2023 IRA season with two top-15s
(PEDAL DOWN PROMOTIONS) September 13, 2023 – Austin Hartmann and the members of the 87A Hartmann Racing made the long trek to Northern and Western Wisconsin to wrap up their final doubleheader weekend of the 2023 Bumper to Bumper Interstate Racing Association 410 Sprint Car Series season with a pair of 15th place A-main showings at the Northern Nationals at Gondik Law Speedway in Superior, Wis. on Friday, Sept. 8 and the 23rd annual Jerry Richert Memorial at Cedar Lake Speedway in New Richmond, Wis. on Saturday, Sept. 9.
In his first appearance at the four-tenths mile high-banked Gondik Law Speedway clay oval, the Plymouth, Wis. driver turned in the 16th fastest qualifying lap in the 23-car field with a time of 16.687 seconds.
After lining up sixth in the first eight-lap IRA heat race, Hartmann was involved in an incident on lap 2, which resulted in his 87A car spinning to a stop in turn two. Following the restart, Hartmann was running seventh when the second yellow flag of the race was displayed on lap 6 after Dave Uttech spun in turn two.
The 2020 Midwest Sprint Car Association and Plymouth Dirt Track Racing 360 Sprint Car Rookie of the Year Award winner then came home sixth in the race.
Hartmann then started 17th in the 25-lap Northern Nationals A main and endured a pair of caution periods to improve two spots on the way to a 15th place showing in a race, which was won by Bill Balog.
On Saturday, Sept. 9, the 87A Hartmann racing team headed to Cedar Lake Speedway for the Jerry Richert Memorial, which is one of the most prestigious annual events on the IRA schedule.
With 27 cars signed for the event, a pair of rain delays pushed the starting time back significantly and forced IRA officials to make the decision to forgo qualifying. As a result, heat race starting positions were set via draw and a passing points system was utilized in heat races to set the A main lineup at the three-eighths mile high-banked clay oval facility.
After drawing the fifth starting spot in the second eight-lap IRA heat race, Hartmann placed sixth to secure the 17th starting position in the 30-lap main event. The fourth year Winged Sprint Car competitor drove a smooth and consistent race on a fast and tacky track surface to move up two spots to end up with his second 15th place A-main showing of the weekend in a race won by Scotty Thiel.
The two 15th place results pushed Hartmann to a total of 12 top-15 A-main finishes for the 2023 season.
Hartmann presently sits ninth in the Bumper to Bumper IRA Sprint Car Series point standings, 16 points behind eighth place Bill Balog and one point ahead of 10th place Jack Vanderboom, with two events remaining on the 2023 IRA schedule.
On Saturday, Sept. 16, Hartmann and the 87A Hartmann Racing team will return to 141 Speedway in Francis Creek, Wis.
Along with the Bumper to Bumper IRA 410 Sprint Cars, the racing program will also feature Street Stocks, Wisconsin Legends Racing Dirt Series and IRA Lightning Sprints.
Pit and spectator gates open at 3 p.m. with racing set to get under way at 7 p.m.
After a weekend off, the 87A Hartmann Racing team will cap the 2023 IRA campaign with the sixth annual Wisconsin Sprint Car Championships at The Plymouth Dirt Track in Plymouth, Wis. on Saturday, Sept. 30.
The special event will feature the final points races of the 2023 season for the Bumper to Bumper Interstate Racing Association 410 Sprint Cars, Akright Auto Midwest Sprint Car Association 360 Sprint Cars, Wisconsin wingLESS Sprint Cars and IRA Lightning Sprints.
Pit gates open at 2 p.m. with spectator gates opening at 4:30 p.m. and packing/hot laps on tap at 4:45 p.m.
All IRA events during the 2023 season are streamed live on FloRacing.
Additional information on the 87A Hartmann Racing team can be found by visiting the team's website www.team87a.com and Facebook page https://www.facebook.com/87Ahartmannracing.
The sponsorship partners for the 2023 87A Hartmann Racing team include Kristine Hartmann of Pleasant View Realty, Shufflebotham Tree Service, Competition Specialists, Schmidt's Landscaping, Feldmann Sales & Service, Holler n Hills, Steinpreis Trucking, KSI Supply Inc., Quasius Construction, SwitchGear Brewing LLC, TheD8Dispensary, AF Inc., Hopf Farms, RC Custom Design, Hepfner Racing Products, Berryman Racing Shocks and Maxim Chassis.
The 2023 87A Hartmann Racing team consists of Hunter Annis, Eric Bergschultz, Parker Annis, Karlee Hartmann, Andrew Shufflebotham and Kristine Hartmann.
87A Hartmann Racing Sponsor Showcase – Steinpreis Trucking
The Austin Hartmann – 87A Hartmann Racing team is pleased to have Steinpreis Trucking, located at N8445 Dairyland Drive in Sheboygan, Wis., on board as a sponsorship partner for the 2023 season.
To contact Steinpreis Trucking, call 920-627-2052.
Pedal Down Promotions is a full-service public relations and media services company devoted to helping its clients effectively communicate with targeted audiences through press releases, newsletters, profile and feature articles, website and social media content development, printed media, editing and layout, graphic design and book publishing services.
For more information on Pedal Down Promotions, email pedaldownpromotions@gmail.com, visit www.pedaldownpromo.com or call 920-323-7970.
Austin Hartmann - 87A Hartmann Racing
2023 Remaining IRA Schedule
Saturday, Sept. 16 – 141 Speedway, Francis Creek, Wis. (IRA)
Saturday, Sept. 30 – Plymouth Dirt Track, Plymouth, Wis. (IRA)
Austin Hartmann 87A Hartmann Racing
2023 Season
By The Numbers
Total Events – 32
IRA Events – 26
World of Outlaws Events – 3
All Star Events – 4
A Main Victories – 0
B Main Victories – 0
Top Five A Main Finishes – 1
Top 10 A Main Finishes – 6
Top 15 A Main Finishes – 12
Top 20 A Main Finishes – 22
Heat Race Victories – 2
Dash Appearances – 6
Dash Victories – 0
Fast Qualifier Awards – 0
---
Article Credit: Jeff Pederson-Pedal Down Promotions
Submitted By: Jeff Pederson
Back to News